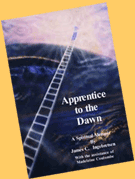 About James C. Ingebretsen
Biographical Note
Born in 1906 in Salt Lake City, James C. Ingebretsen was educated at Stanford University and enjoyed successful careers as a lawyer, businessman, and libertarian leader. On May 22, 1955, while in New York City on a professional trip, Ingebretsen's life took a dramatic turn when he experienced a spiritual awakening.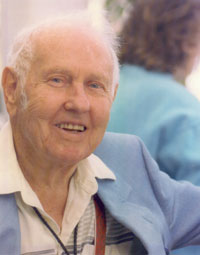 James C. Ingebretsen
Ingebretsen was fortunate to have already made the acquaintance of the writer and thinker, Gerald Heard, who guided him through the first months after his awakening, helping him to reconcile the seemingly disparate existences of father, husband, executive and newly-initiated spiritual seeker. Ingebretsen came to realize that what had transpired in New York City was not intended to wrench him away from his family and professional life but was a call to invest his activities and relationships with greater significance and awareness. His search for spiritual knowledge, which began with his background in Christian teachings, soon expanded to encompass Eastern religions, several forms of meditation, and various experiments with Heard and others to achieve a more profound understanding of divine energies and their interplay with human consciousness.
In 1957, Ingebretsen purchased a 270-acre property located in the foothills of Mount San Jacinto in southern California, which he eventually operated as a retreat center known as Koan of the Cross. Five years before the founding of Esalen, Koan of the Cross was a gathering place for dozens of inspiring and gifted teachers from all over the world in a variety of spiritual, religious, psychological, and cultural disciplines. These teachers included such luminaries as Joseph Campbell, the famous writer on mythology; the philosopher, Alan Watts; Dane Rudhyar, a composer and astrologer; and the religious philosopher and educator, J. Krishnamurti. In Apprentice to the Dawn, Ingebretsen focuses on three of these teachers: Wen-Shan Huang, the tai chi chu'an master; Ira Progoff, a depth psychologist who developed the Intensive Journal™; and Pir Zade Vilayat Inayat Khan, leader of the Sufi Order. Each of these men entered Ingebretsen's life at a time when he could assist them, awarding grants, hosting retreats, offering legal advice, and managing business affairs. In return, these teachers expanded Ingebretsen's spiritual quest and sense of personal unfoldment.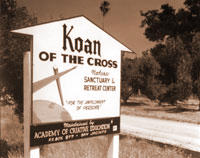 In 1974, after fire and floods had ravaged the land at Koan of the Cross, Ingebretsen sold the property and returned to live full-time in his home on the Palos Verdes Peninsula near Los Angeles. After losing most of his vision in 1976, he withdrew from many of his activities to concentrate on and to document his spiritual development, eventually expanding his journal and dream records to over fifty loose-leaf volumes. He continued to explore the meaning of several myths while evolving his daily "attunement" practices, his techniques for staying in touch with the divine forces which had entered his life in 1955.